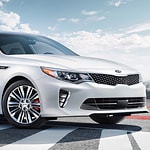 Drivers are ecstatic about the latest lineup from Kia. The value automaker is surely making some changes and upgrading many of its midsize and economy sedans. The Kia Optima has been updated with a completely new interior and premium cabin. The soft-touch materials and lining make it seem more luxurious, and there are a ton of technology options to take advantage of. For example, you can connect your phone to your car instantly to mirror most of your apps and take advantage of voice assistance technology.
Voice commands let you control everything from the driver's seat. Whether you want to conduct a meeting on the road or need to text something, you can simply open your phone's apps with commands. This keeps drivers safe, and it makes everything so much easier when you are on the road. In addition, the Kia Optima now includes blind spot monitoring, lane keep assist, driver attention warnings, and rearview cameras with its standard trim.
Have you ever wanted to drive in a truly serene cabin? The Kia Optima is what you are looking for. See the latest deals when you visit Hyman Bros. Kia for a friendly test drive in Midlothian.