The 2018 Kia Stinger has earned a heap of praise for its high performance on the road, and it's not hard to see why. Equipped with a standard 255 horsepower 2.0-liter turbocharged inline-4, it also offers an option for a 3.3-liter twin-turbocharged V6 capable of 365 horsepower and 376 pounds-feet of torque. When you want a robust driving experience, the Stinger delivers.
The great thing about the Stinger, however, is how it also delivers so much more. Case in point, the editors at WardsAuto announced that Kia's performance car would be claiming a spot on its list for the 10 Best Interiors for 2018.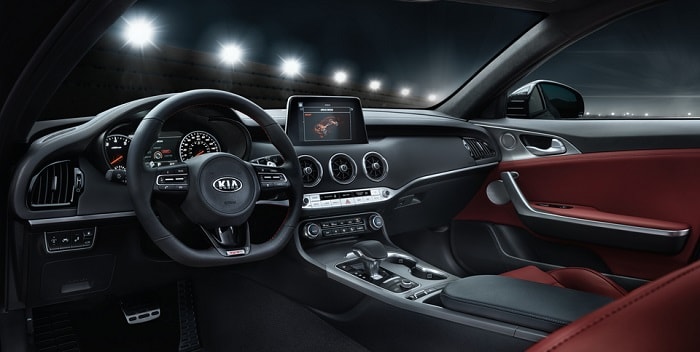 "After we tallied the scores, the Stinger GT took its spot on our list with no debate," said Christie Schweinsber, a senior editor at WardsAuto. "Its interior is both elegant and athletic thanks to its high-quality leather and soft-touch materials and a just-right mix of black and red on our test car, accented by real aluminum trim. Our test car also quickly paired our smartphones, had easy-to-understand touchscreen menus, comfortable seats and good fit-and-finish."
The Stinger's interior combines an attractive design with premium materials for top-tier comfort. The Stinger also comes packed full of modern technology for a feature-rich ride that you'd be hard-pressed not to enjoy. If you'd like to learn more about everything the Kia Stinger has to offer, get in touch with the sales team at Hyman Bros Kia in Midlothian, VA. Our Kia-brand experts would be happy to show you all of the options available in our inventory of new Kia cars.